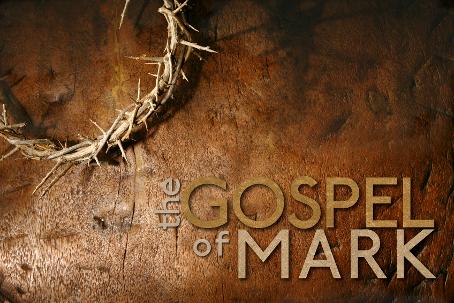 MARK
THE STRUCTURE OF THE BOOK AS A WHOLE
"BEHOLD MY SERVANT" (Isa. 42:1)
1:1-8 THE FORERUNNER
1:9-11 THE BAPTISM: WITH WATER
1:12 & 13 THE TEMPTATION: IN THE WILDERNESS
1:14-20 THE KINGDOM
1:21-8:30 THE KING
8:31-10:52 THE KING
11:1-14:25 THE KINGDOM
14:26-42 THE AGONY: IN THE GARDEN
14:43-16:14 THE BAPTISM: OF SUFFERING (DEATH,
BURIAL, AND RESURRECTION)
16:15-20 THE SUCCESSORS
The books used in these study's for The Book of Mark were the King James Bible, "The Companion Bible" Publisher Kregel; which I strongly recommend you get. Strong's Exhaustive Concordance of the Bible by James Strong, Hendrickson Publication numbered to the Hebrew, Chaldee, Greek and English; coded to the Strong's Concordance numbers.

Without The Holy Spirit leading The Way, there would be no understanding of The Truth, for all the truth of the Scriptures are revealed to us by God's Spirit. To better understand God's Word you'll need to erase your mind of the world and the things you've been previously taught. If you need any help on how to use these study guides, you may contact me by e-mail, ToddOVM@yahoo.com. Take your time and what you don't get at first you will get [IF] you continue to study. I've been studying since 1996 and I don't know half of what our Father has for us all. If you ever run across those that say they know The Word, that's one you should have caution with. We are a study Ministry and ever growing in understanding while helping our community, city, state, country and the world. If you feel we have helped you and you would like us to continue to help, please send a love offering through our e-mail address ToddOVM@yahoo.com to contact us. We thank you very much in advance and most of all, I thank you for the love you have for our Father by studying what He has giving us ALL. May God bless you and yours!
Todd Davis/ Pastor