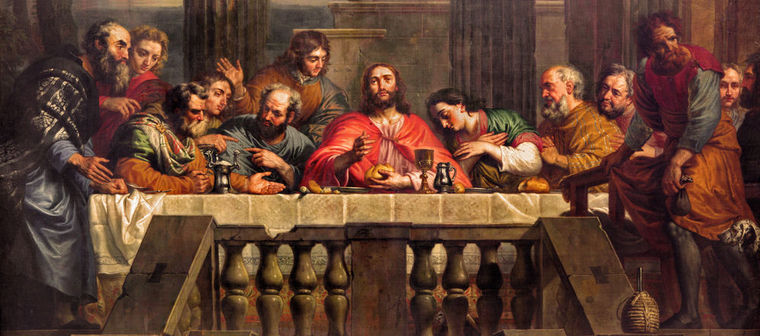 John 13
1 Now before the feast of the passover, when Jesus knew that his hour was come that he should depart out of this world unto the Father, having loved his own which were in the world, he loved them unto the end.
Christ knew His work was about done and His purpose about to be fulfilled. He had shown us how to get it done in this flesh and He's about to give His last breath for us.
2 And supper being ended, the devil having now put into the heart of Judas Iscariot, Simon's son, to betray him;
Judas, the one who complained about the "waste" of ointment being used for Christ and the one that has been taking a little off the top on any transaction dealing with money. satan is using the only one that's focus is on the flesh and not Christ. Money is Judas's weakness and satan's going to take advantage of that.
3 Jesus knowing that the Father had given all things into his hands, and that he was come from God, and went to God;
God's plan was going to happen just as He wants it to happen.
4 He riseth from supper, and laid aside his garments; and took a towel, and girded himself.
Christ puts His good clothes aside and puts on work clothing with a towel for an apron.
5 After that he poureth water into a bason, and began to wash the disciples' feet, and to wipe them with the towel wherewith he was girded.
Christ knelt down and washed His disciples feet, using His apron to dry their feet. This shows that they would also serve for the purpose of God. They will walk His path, showing The Way in the services of Christ.
6 Then cometh he to Simon Peter: and Peter saith unto him, Lord, dost thou wash my feet?
Peter felt gilt having Christ washing his feet. Peter knew Who Christ was and didn't like the fact He was doing such a thing as a slave would do.
7 Jesus answered and said unto him, What I do thou knowest not now; but thou shalt know hereafter.
Although Peter knew Christ, he didn't know the full extent of what was about to happen.
8 Peter saith unto him, Thou shalt never wash my feet. Jesus answered him, If I wash thee not, thou hast no part with me.
He had better do it or Christ will be done with Peter.
9 Simon Peter saith unto him, Lord, not my feet only, but also my hands and my head.
Peters like, "in that case wash it all." He's ready to submit to The Lord.
10 Jesus saith to him, He that is washed needeth not save to wash his feet, but is clean every whit: and ye are clean, but not all.
When someone has fallen it is the time to step up and care for that fallen one. We should never keep silent when you know better and can help someone out of their sin. Yes, we ALL fall short, but you study and you understand the sins you have committed and repented of. You've come out of those sins with wisdom of knowing better. So help someone come out also. Help them see The Way to come clean.
11 For he knew who should betray him; therefore said he, Ye are not all clean.
Christ is letting His twelve disciples know there is one among them that is still dirty.
12 So after he had washed their feet, and had taken his garments, and was set down again, he said unto them, Know ye what I have done to you?
13 Ye call me Master and Lord: and ye say well; for so I am.
"Master and Lord" = "teacher and The Son of God" and we see "I AM" His sacred name used here.
14 If I then, your Lord and Master, have washed your feet; ye also ought to wash one another's feet.
Christ showed us The Way and if we're going to call ourselves Christians, we should do as He has shown. Christian means to be Christ like so help prepare others for the walk.
15 For I have given you an example, that ye should do as I have done to you.
16 Verily, verily, I say unto you, The servant is not greater than his lord; neither he that is sent greater than he that sent him.
Humility must be within those that serve The Lord. Christ showed us humility and we must be humble to be Christ like.
17 If ye know these things, happy are ye if ye do them.
Regardless of the things around you being in chaos, when you do things Christ Way, you're at peace.
18 I speak not of you all: I know whom I have chosen: but that the scripture may be fulfilled, He that eateth bread with me hath lifted up his heel against me.
19 Now I tell you before it come, that, when it is come to pass, ye may believe that I am he.
20 Verily, verily, I say unto you, He that receiveth whomsoever I send receiveth me; and he that receiveth me receiveth him that sent me.
There are those that hold The Truth of God, sent from God for you. If you refuse that person, you also refuse God. How do you know they're sent of God? When they tell you something, you check it out for yourself and with prayer, The Holy Spirit will unlock The Truth to you. Then you know, if that one was sent of God. So don't reject them right off. Check them out!
21 When Jesus had thus said, he was troubled in spirit, and testified, and said, Verily, verily, I say unto you, that one of you shall betray me.
He loves them all, but is saddened at the same time. Not everyone that walks with Christ, follows Christ. Acts 20:29 For I know this, that after my departing shall grievous wolves enter in among you, not sparing the flock.
22 Then the disciples looked one on another, doubting of whom he spake.
They're wondering which one could it be.
23 Now there was leaning on Jesus' bosom one of his disciples, whom Jesus loved.
We've all seen the picture. They're lined up on either side of Christ, leaning in to see Him. John on one side, Peter on the other.
24 Simon Peter therefore beckoned to him, that he should ask who it should be of whom he spake.
Peter wants John to ask Christ who it is that will betray Him.
25 He then lying on Jesus' breast saith unto him, Lord, who is it?
So John asked.
26 Jesus answered, He it is, to whom I shall give a sop, when I have dipped it. And when he had dipped the sop, he gave it to Judas Iscariot, the son of Simon.
Without name, everyone could see who would betray Him.
27 And after the sop Satan entered into him. Then said Jesus unto him, That thou doest, do quickly.
You can't hide any thoughts from God. He knows everything you think of and believe in. For those who study His Word, we know the difference also. An evil spirit may think they're hiding, but you shall know them by their fruits. Matthew 7:20 Wherefore by their fruits ye shall know them.
28 Now no man at the table knew for what intent he spake this unto him.
They didn't understand.
29 For some of them thought, because Judas had the bag, that Jesus had said unto him, Buy those things that we have need of against the feast; or, that he should give something to the poor.
He wasn't going to buy anything for anyone, but he was going to sell. He was about to go sell Christ for 30 pieces of silver.
30 He then having received the sop went immediately out: and it was night.
Judas headed out to sell Christ.
31 Therefore, when he was gone out, Jesus said, Now is the Son of man glorified, and God is glorified in him.
Trouble has left the building. Judas was gone and Christ sat with His true followers. He knows He is about to be crucified, by which He would be glorified and that would glorify our Father. "glorified" = δοξάζω doxázō, dox-ad'-zo; from G1391; to render (or esteem) glorious (in a wide application):—(make) glorify(-ious), full of (have) glory, honour, magnify, to cause the dignity and worth of some person or thing to become manifest and acknowledged, impart glory to something, render it excellent, to make renowned.
32 If God be glorified in him, God shall also glorify him in himself, and shall straightway glorify him.
They're One and both are glorified the instant Christ gives up His Spirit which goes back to The Father.
33 Little children, yet a little while I am with you. Ye shall seek me: and as I said unto the Jews, Whither I go, ye cannot come; so now I say to you.
John 8:21 Then said Jesus again unto them, I go my way, and ye shall seek me, and shall die in your sins: whither I go, ye cannot come. Because they love the world over The Truth, The Word, The Way to life, they will die in what they seek so badly. They have the opportunity to seek Him and unless they change, they will not exist in the end. John 8:22 Then said the Jews, Will he kill himself? because he saith, Whither I go, ye cannot come. This is what happens when you won't think outside of the flesh. They have no spiritual mind to see. John 8:23 And he said unto them, Ye are from beneath; I am from above: ye are of this world; I am not of this world. They refuse Truth. John 8:24 I said therefore unto you, that ye shall die in your sins: for if ye believe not that I am he, ye shall die in your sins. Christ is telling them, He is The Only Way that they have to forgiveness. If you don't believe that, you'll die carrying every one of your sins to judgment day. John 8:25 Then said they unto him, Who art thou? And Jesus saith unto them, Even the same that I said unto you from the beginning. They're saying "Who do you think you are" and Christ is telling them He is the same One that told them in the beginning. "[I AM] The Anointed One, [I AM] sent of My Father, We are One,"
34 A new commandment I give unto you, That ye love one another; as I have loved you, that ye also love one another.
You love by humbling yourself to help others in need. That's with their physical needs and mental needs. Don't ever hold The Truth back, that is a very important love. If you keep silent of the Truth of God, others may not ever hear it, True loves grows. †
35 By this shall all men know that ye are my disciples, if ye have love one to another.
Christians are very different from those of the world. Some will accept you, some won't. The most important thing is that you're accepted of God. Matthew 25:21 His lord said unto him, Well done, thou good and faithful servant: thou hast been faithful over a few things, I will make thee ruler over many things: enter thou into the joy of thy lord. Peace of mind is knowing you have done your best to serve The Lord. When He gives you Truth, don't put it away, use it to better someones life.
36 Simon Peter said unto him, Lord, whither goest thou? Jesus answered him, Whither I go, thou canst not follow me now; but thou shalt follow me afterwards.
Christ must go somewhere Peter can't until his time is over. Christ is preparing The Way for everyone that loves Him. If you do, then when you die, you will follow.
37 Peter said unto him, Lord, why cannot I follow thee now? I will lay down my life for thy sake.
38 Jesus answered him, Wilt thou lay down thy life for my sake? Verily, verily, I say unto thee, The cock shall not crow, till thou hast denied me thrice.